j3 cub
09-06-2018, 05:50 PM
New Member
Join Date: Aug 2018
Location: Southport UK
Posts: 13
11-04-2018, 02:32 AM
---
I built the71" wsp Sig J-3 Cub. It's very old design, lots of balsa and ply parts, bags of hardware and plans that leave some details up to the builder. It's designed for .36 to .45 glow engines. Mounting an IC engine with muffler and requires some cutting up of the formed cowl and finding fuel tank that will fit the limited space behind the firewall. Building it as an electric powered model requires making the side door and window functional to provide access to a 4000 mah 3S or 4S lipo pack located with end at the instrument panel. I use two 2200mah lipo packs in parallel, held in a rack, side by side. Power is Cobra 3525/14 spinning a 12x6 APC thin E prop. It does loops and rolls, etc. cruising duration is about 9 minutes. The 1/6 scale kit does not come with a dummy engine, there are vacuum formed engines and a very scale engine available separately from other suppliers.

I would guess that the more modern Sig 1/5 and 1/4 scale J-3 kits are easier to build as either electric or IC powered models. Some prefer 4-stroke motor sound to quiet electric sound. Dummy engines are included. There are a number of similar sized Cub kits available.
11-04-2018, 05:37 PM
Super Contributor
Join Date: Oct 2010
Location: Ex UK Brit now in Latvia west coast - Ventspils
Posts: 12,503
---
If you are not stuck on size ... have a look at the laser wood cut kit on Hobby King .... I built it and I see there is a newer version that I believe ironed out some of the faults in the original I have.
https://hobbyking.com/en_us/j-3-lase...wl-kit-v2.html
or
https://hobbyking.com/en_us/piper-j3...-kit-only.html
Here's mine :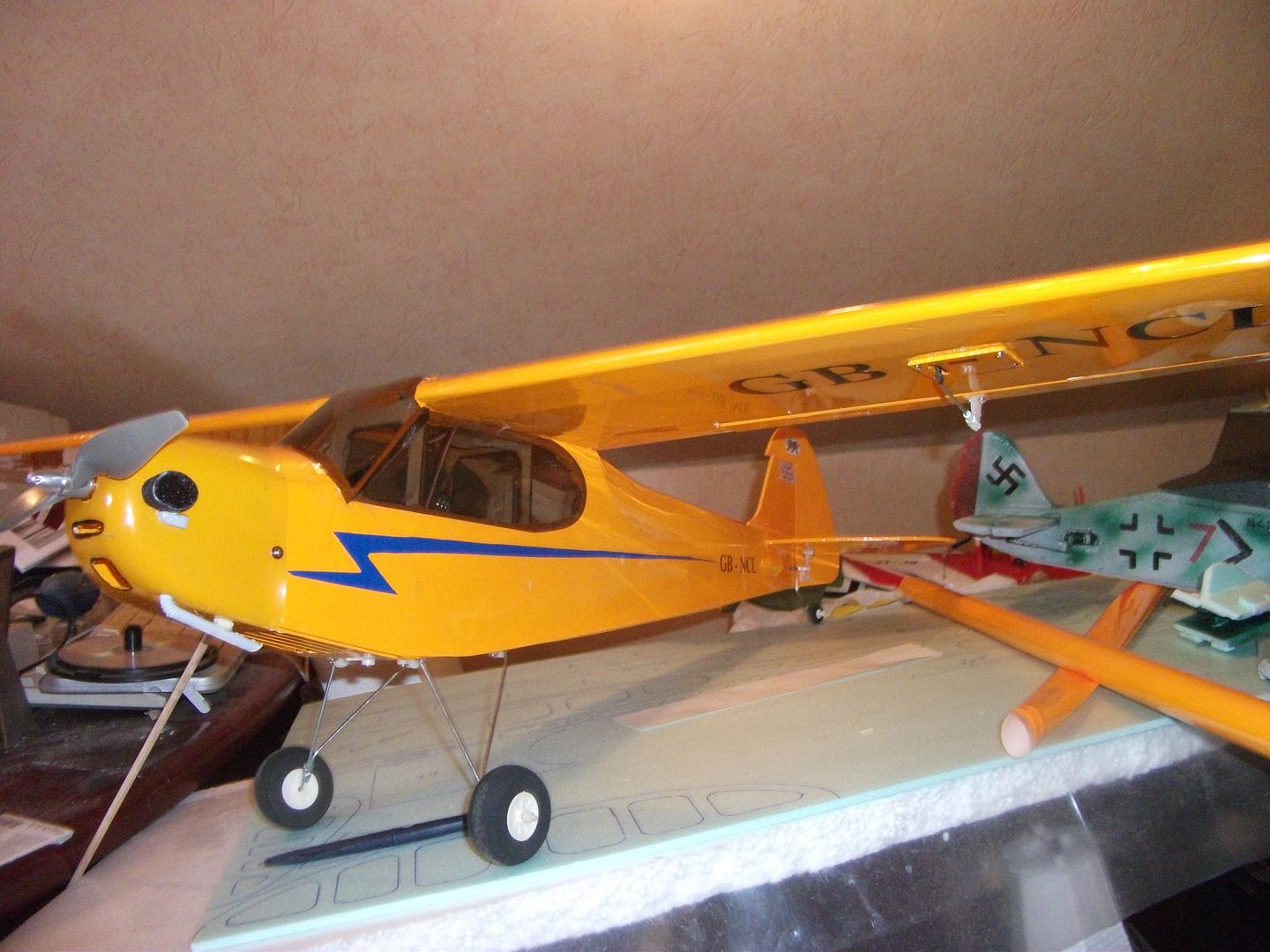 Yes she does fly slower than that !!
Nigel
05-26-2019, 08:35 PM
---
There are many Cub designs offered in kits to build or ARF models to assemble . Generally the ARF models are not as scale like as I prefer. Sig's 1/5 and 1/4th versions are larger than I like from a storage and transport standpoint. All large scale Cub models require some fiddling to mount wing and struts at the field and take down for the trip home. There is some advantage to separate wing panels vs single wing for storage . I like electric power for my 1/6 scale Cub, obviously no mess and fogging of windshield from fuel and more reliable power / no dead stick emergencies and retrieval from the boonies. If you don't care about scale appearing cabin/window details, ARF versions may satisfy you. Cubs are not really "trainers" as models. They require tail-dragger piloting skills and use of rudder with ailerons to counter adverse yaw tendencies much like full scale Cubs. J-3 Cubs have no flaps. If a little to heavily wing loaded, they tend to overfly a short runway unless landing into a headwind.
Thread
Thread Starter
Forum
Replies
Last Post
General Electric Discussions
Currently Active Users Viewing This Thread: 1
(0 members and 1 guests)
Posting Rules
You may not post new threads
You may not post replies
You may not post attachments
You may not edit your posts
---
HTML code is Off
---