Minimum voltage Turnigy 4000mah 2s
03-05-2019, 02:02 PM
Minimum voltage Turnigy 4000mah 2s
---
03-05-2019, 02:25 PM
Super Contributor
Join Date: Oct 2010
Location: Ex UK Brit now in Latvia west coast - Ventspils
Posts: 12,370
---
2S LiPo ..... absolute lowest total voltage you should try to avoid is 6.0V. LiPo cells do not like dropping below 3V and irreparable damage occurs going below that. It is recc'd to stay above at least 3.3V per cell... 6.6V total.
Your battery giving 7.5V is at 3.75V per cell- which is a nice storage value ...
Here's a LiPo table as reference ..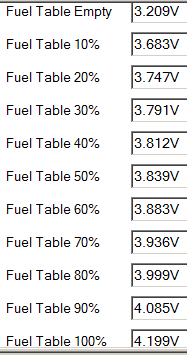 You ask what settings to charge it at ... usually for many - it would be 1C which is 4A. For other settings - all you need is to set 2S mode LiPo ... and let the charger do it automatically for you. I personally suggest not to modify internal charger settings ...leave as default.
03-05-2019, 03:31 PM
---
So with 7.5 i still have a little juice left for some sim flying a couple of hours? I'd better stop at 7.00 just to be safe then
Thank's for the Lipo table and it's pr cell off course.
I'm thinking of using regular 4 AA 1.5v batteries for the rest of the sim until my charger arrives tomorrow. One last Q. There is no balancer cable on the Turnigy battery. So it will
be charged without balance. Does this matter?
03-05-2019, 06:22 PM
Super Contributor
Join Date: Oct 2010
Location: Ex UK Brit now in Latvia west coast - Ventspils
Posts: 12,370
---
Usually charging of Tx pack is done while connected and in the Tx via the charger socket. This means basically using the supplied radios charger. Do you not have one with the Tx ?

The battery pack you have is claimed as 'intelligent' ..... cutting of power at 2.95V per cell (remember my 3.0V comment) and says it shuts off charge at 4.2V per cell. So my reading of that is that its designed to be plugged in to your Spektrum and charged in situ....

Do not forget that your radio must be set in options to LiPo

I do not use Spektrum - so I must refer you to your Radio manual other Spektrum users.
Thread
Thread Starter
Forum
Replies
Last Post
Hi-Performance and Sailplanes
Batteries and Chargers Forsale/WTB
Batteries and Chargers Forsale/WTB
Batteries and Chargers Forsale/WTB
Currently Active Users Viewing This Thread: 1
(0 members and 1 guests)
Posting Rules
You may not post new threads
You may not post replies
You may not post attachments
You may not edit your posts
---
HTML code is Off
---